R4U has announced that levelling work has started as part of the refurbishment of the public sports pitches near Catons Lane. R4U's Cllr Paul Gadd has been leading the initiative at the Saffron Walden Town Council. Cllr Gadd said:
"The public pitches at Catons Lane were unusable for sports. We pledged in our manifesto to provide better sports and leisure facilities. Since becoming the major party on the Town Council we've moved things forward, with this site being one of our first focus areas because the Town Council owns the land. Once finished, it should provide two junior football pitches and a cricket pitch, all free for public use."

"In October R4U councillors organised a stone pick with the football and cricket clubs and other volunteers.  Over the winter drainage work has continued. There is now a flurry of activity to try to catch the cricket season.  The current works include levelling the land near the Slade and applying new topsoil, and then over-seeding. Finally sand will be spread to improve drainage and the quality of the ground. We're looking forward to the work being completed by the early summer."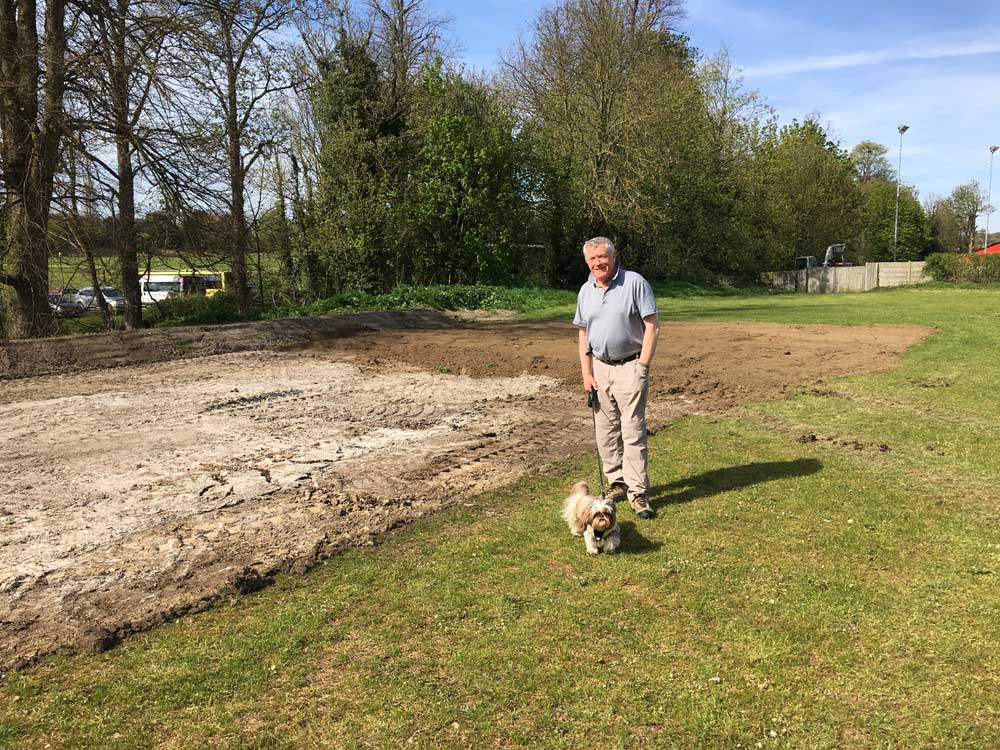 Castle Ward Cllr Richard Freeman at the new public sports pitches on Catons Lane as work gets underway
About Residents for Uttlesford
Residents for Uttlesford (R4U) is the local party of towns and villages. The party was formed by a number of residents' groups in north Essex to provide a strong, independent voice for the views of the residents of the area. The party believes that on local issues local residents should decide, not politicians from Westminster parties.
Uttlesford residents achieved election gains in 2013 and have been increasing their voter share ever since. In 2017 they achieved further gains with a 60% share of the vote in a local district council by-election. Election successes are based on the group's desire to give local people a voice and implement long range strategic and sustainable plans for their area.
Residents for Uttlesford has 11 Uttlesford District Councillors and numerous Town and Parish Councillors. It is the Second Party at Uttlesford District Council and the largest party at Saffron Walden Town Council, where under its stewardship, the council has won multiple awards.
Residents for Uttlesford can be found on the web at www.residents4u.org.