Residents for Uttlesford (R4U), the local party of towns and villages, has announced that R4U's Cllr Natalie Sullivan-Smith has been successful in preserving an important public right-of-way and reinstating hedgerow that UDC allowed a developer to rip up in Takeley.
In 2014, Countryside Properties removed part of a hedgerow to extend their building site onto a public footpath running beside their Friars Place development in Takeley. The hedge provided a visible boundary to the development as well as a habitat for wildlife. In spite of local protests, residents became more frustrated when in early 2015 UDC granted retrospective planning permission which allowed the developer to rip out the rest of the hedgerow.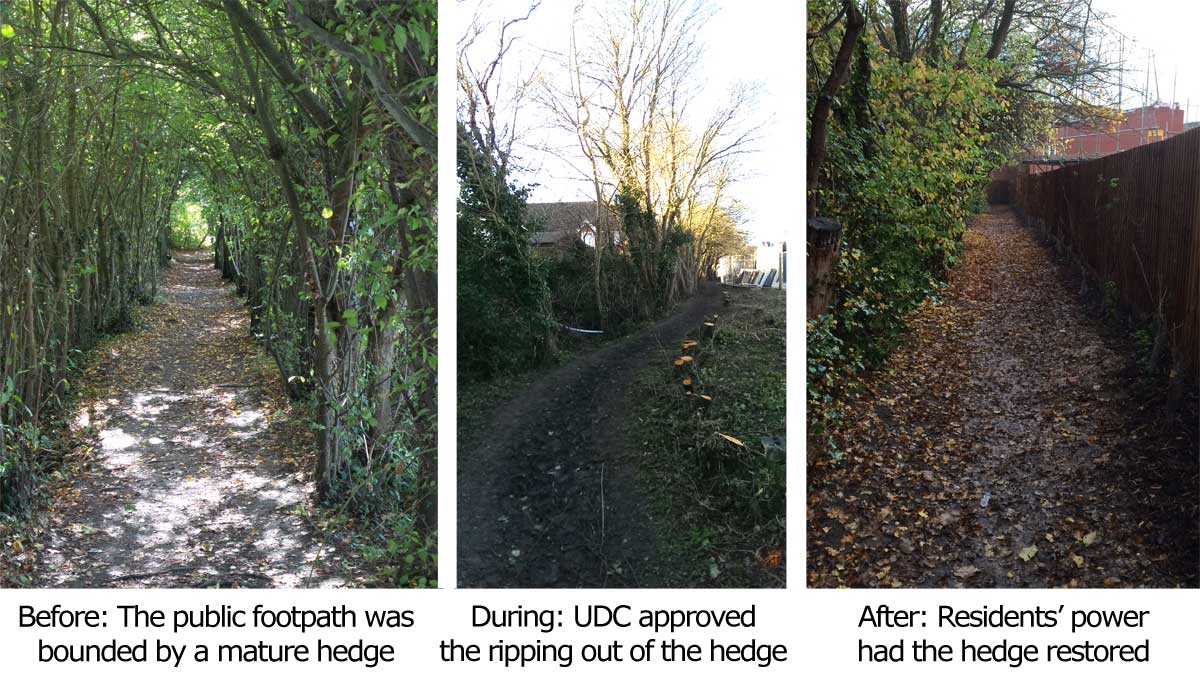 R4U's Takeley Parish Councillor, Natalie Sullivan-Smith led the year-long residents' campaign which has just seen the public footpath and hedge restored.
Cllr Natalie Sullivan-Smith said:
"I am pleased that we have successfully preserved this much used and important right-of-way. We insisted that the fence was moved back, retaining the access and restoring the footpath width, which is important for pushchair access and dog walkers.  And even though it will take a number of years to grow to full height, importantly the hedge has now been replanted."
"Countryside Properties have indicated that they'll complete the final hedgerow works before Christmas. But it is disappointing that residents had to get involved to make the District Council and developer do the right thing. It is also frustrating that UDC refuses to make all developers adhere to the Considerate Constructors Scheme as part of granting planning permission. It happens elsewhere, so why not in Uttlesford?"
About Residents for Uttlesford
Residents for Uttlesford (R4U) is the local party of towns and villages. The party was formed by a number of residents' groups in north Essex to provide a strong, independent voice for the views of the residents of the area. The party believes that on local issues local residents should decide, not politicians from Westminster parties.
Uttlesford residents achieved election gains in 2013 and have been increasing their voter share ever since. In 2017 they achieved further gains with a 60% share of the vote in a local district council by-election. Election successes are based on the group's desire to give local people a voice and implement long range strategic and sustainable plans for their area.
Residents for Uttlesford has 11 Uttlesford District Councillors and numerous Town and Parish Councillors. It is the Second Party at Uttlesford District Council and the largest party at Saffron Walden Town Council, where under its stewardship, the council has won multiple awards.
Residents for Uttlesford can be found on the web at www.residents4u.org.